I had a very weird (almost) unsolvable problem.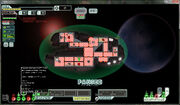 01 I escaped a fight but had no oxygen, luckily I had a Clone Bay. Only Zoltan crew, all dead but cycling through the Bay. 02 I could rush from the Clone Bay to the Oxygen room and repair a bit before the Zoltan died/exploded.
03 This seemed to damage the Oxygen Room back to zero repairs, except a Zoltan explosion shouldn't do that!
04 Even when I left the room before exploding the repairs immediatly disappeared and went down to zero repairs (no yellow bar at all). This didn't even happen when the Zoltan exploded in a different room, it happened *immediately* when he left the room. You can see that I even freed up a bar of energy from the engine in case that mattered (which it didn't). I tried many variations, every time the crew would repair a little but when he exploded or left the room the repairs disappeared.
05 In case you are wondering I sent the next Zoltan to the Pilot room instead. I was able to fly to a Store (lucky). This did not reset anything and everything was still working the same way. But I was able to buy a Lanius Crew (Super Lucky!) and he repaired the Oxygen.