Welcome to the FTL: Faster Than Light Wiki
FTL: Faster Than Light is a space role-playing game with roguelike elements developed by Subset Games, in which you are the captain of a spaceship that needs to save the Federation from the Rebellion. It was announced on February 27th, 2012 by Kickstarter and released on September 14th, 2012. The Advanced Edition, a free content patch adding a considerable amount to the original game, was released April 3, 2014.

FTL: Faster Than Light
is a space role-playing game with roguelike elements developed by Subset Games. In FTL, the player controls a spacecraft and crew that intercepts a data packet from a rebel fleet. The player's goal is to reach a Federation fleet, which is waiting a long distance away, without being destroyed or caught by the rebel fleet in pursuit.
An unofficial IRC channel: #fasterthanlight on Freenode.
Another unofficial IRC channel for FTL on Quakenet. #FTLgame
<< Click the link to open QuakeNet's webchat (it will take you straight to the channel, no hassle) if you don't use a client.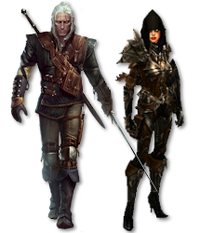 RPG Games
Go to these sites for info or for help with your own wiki!
AdventureQuest • Agarest War • Arcanum: Of Steamworks and Magick Obscura • Baldur's Gate • Biomutant • Dark Souls • Deus Ex • Diablo • Divinity • Dragon Age • Dragon Blaze • Dragon's Dogma • Elder Scrolls • Expeditions: Viking • Fable • Fallout • Faster Than Light • Fate/Grand Order • Five Nights at Freddy's World • For Honor • Grand Chase • Hyper Light Drifter • Ib • Legend of Heroes • Mass Effect • Might & Magic • Onmyoji • Shadowrun • SpellForce • Summoners War • Tales of Erin • Tom Clancy's The Division • Torment • Undertale • Wasteland • The Witcher
Want your community included? See how!
See all of our RPG gaming wikis!