The universe of FTL is inhabited by friendly and enemy ships. These ships come in a variety of layouts, and can be equipped with various systems and subsystems, weapons, drones, and augmentations.
Each ship can carry a maximum of eight crew members of various races, and each player ship has an initial crew of between one and four members. Each ship starts with varying systems, weapons, scrap values and power levels.
Playable Ships
Edit
See Also: Ship Strategies and Ship Comparison.
There are ten ship classes available in FTL:
Enemy Ship General Info
Edit
Enemy ships can have Systems that exceed 8, which is the limit for players. Most commonly, this is seen late game with ships having been seen with 10 in Shields or Weapons. Typically, it's the larger more powerful ships that will go beyond 8 limit. No other system exceeds the 8 limit, though it should be noted that the Rebel Flagship uses special versions of Drones that cost less energy, giving it the ability to use what seems to be more than 8 in Drone Control.
Pirate ships can have a few differences from their counterparts. In addition to the paint job, a few exceptions allow some ships will have different layouts and new Systems installed. In addition, Pirates will always have the same amount of crew but of various races (excluding Crystal, though Lanius Pirates may appear in the Abandoned Sector).
Enemy ships usually have about 10 Missiles and 4 Drones stocked, but this can vary.
Enemy Ships
Edit
Each ship powers its systems, weapons, and drones through a reactor. The reactor contains a finite number of discrete Energy Bars that can be allocated, and scrap can be used to upgrade the reactor to a maximum of 25 Energy Bars. Strategic use of Zoltan crew members can provide additional power (1 power per Zoltan), and the Battery Backup Subsystem can provide an additional 4 bars of power for 30 seconds (when upgraded), this results in a maximum of 37 Energy Bars.
Each ship unlocks with only its Layout A available. You need to complete predefined objectives to unlock additional layouts: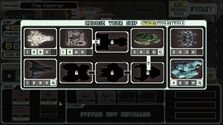 Layout A - You start with Kestrel Cruiser Layout A. Other Layout A's (Other Ships) can be earned via beating the game on any difficulty with the previous ship. The order in which you unlock is identified by an arrow with a V. See screenshot for example. You can also earn other ships by completing their respective quest.
Layout B - earn 2 of the 3 ship related Achievements to unlock
Layout C - reach sector 7 with Layout B and Advanced Mode enabled to unlock
The Lanius and Crystal cruiser do not have a 'C' layout.
Ship ComparisonsEdit
Click on the buttons below to reveal ship data. Click different ships to compare between them.
Kestrel Cruiser
- Layout A -
The Kestrel


Reactor Power
- 8 -


16


8


2

- - -


2


2


1


3


1


-


-


-


-


-


-


-


1


1


1


-

- 4 Max Weapons -
Artemis, Burst Laser II

- 2 Max Drones -
-
Kestrel Cruiser
- Layout B -
Red-Tail


Reactor Power
- 8 -


16


5


0

- - -


2


2


1


4


1


-


-


-


-


-


-


-


1


1


1


-

- 4 Max Weapons -
Basic Laser, Basic Laser
Basic Laser, Basic Laser

- 2 Max Drones -
-
Kestrel Cruiser
- Layout C -
The Swallow


Reactor Power
- 7 -


16


4


3

- - -


2


2


1


2


-


1


-


-


-


-


-


-


1


2


1


-

- 4 Max Weapons -
Dual Lasers, Ion Stunner

- 2 Max Drones -
-
Engi Cruiser
- Layout A -
The Torus


Reactor Power
- 10 -


16


0


15

Engi Med-bot Dispersal


2


2


1


3


1


-


3


-


-


-


-


-


1


1


1


-

- 3 Max Weapons -
Ion Blast II

- 3 Max Drones -
Combat I
Engi Cruiser
- Layout B -
The Vortex


Reactor Power
- 9 -


16


0


6

Drone Reactor Booster


2


1


1


3


1


-


3


-


-


-


-


-


1


-


1


-

- 3 Max Weapons -
Heavy Ion, Heavy Laser I

- 3 Max Drones -
Anti-Personnel, System Repair
System Repair
Engi Cruiser
- Layout C -
Tetragon


Reactor Power
- 9 -


16


0


25

Defense Scrambler


2


2


1


1


-


1


2


1


-


-


-


-


1


1


1


-

- 3 Max Weapons -
Dual Lasers

- 3 Max Drones -
Beam I
Federation
Cruiser
- Layout A -
The Osprey


Reactor Power
- 8 -


16


5


2

- - -


2


2


1


2


1


-


-


-


-


-


-


L1


1


1


1


-

- 4 Max Weapons -
Burst Laser II

- 2 Max Drones -
-
Federation
Cruiser
- Layout B -
Nisos


Reactor Power
- 9 -


16


9


0

- - -


2


2


1


2


1


-


-


-


-


-


-


L2


1


1


1


-

- 4 Max Weapons -
Dual Lasers, Leto

- 2 Max Drones -
-
Federation
Cruiser
- Layout C -
The Fregatidae


Reactor Power
- 7 -


16


5


0

Emergency Respirators


2


2


1


1


-


1


-


-


-


1


-


F1


1


1


1


-

- 4 Max Weapons -
-

- 2 Max Drones -
-
Zoltan Cruiser
- Layout A -
The Adjudicator


Reactor Power
- 5 -


16


12


2

Zoltan Shield


2


1


1


3


1


-


-


-


-


-


-


-


1


1


2


-

- 4 Max Weapons -
Halberd Beam, Leto

- 2 Max Drones -
-
Zoltan Cruiser
- Layout B -
Noether


Reactor Power
- 5 -


16


0


2

Zoltan Shield


1


2


1


4


1


-


-


-


-


-


-


-


1


1


1


-

- 4 Max Weapons -
Ion Blast, Ion Blast
Pike Beam

- 2 Max Drones -
-
Zoltan Cruiser
- Layout C -
Cerenkov


Reactor Power
- 2 -


16


2


15

Zoltan Shield


2


2


1


2


-


1


3


-


-


-


-


-


1


1


1


2

- 4 Max Weapons -
Ion Charge

- 2 Max Drones -
Beam I
Mantis Cruiser
- Layout A -
The Gila Monster


Reactor Power
- 7 -


16


16


0

Mantis Pheromones


2


2


1


1


1


-


-


-


-


1


-


-


1


-


1


-

- 3 Max Weapons -
Small Bomb, Basic Laser

- 2 Max Drones -
-
Mantis Cruiser
- Layout B -
The Basilisk


Reactor Power
- 11 -


16


0


15

Mantis Pheromones


4


1


1


1


1


-


3


-


-


1


-


-


1


1


1


-

- 3 Max Weapons -
-

- 2 Max Drones -
Boarding, Defense I
Mantis Cruiser
- Layout C -
The Theseus


Reactor Power
- 8 -


16


20


0

Mantis Pheromones


2


2


1


2


-


2


-


-


-


1


-


-


1


1


1


-

- 3 Max Weapons -
Lockdown Bomb, Stun Bomb

- 2 Max Drones -
-
Slug Cruiser
- Layout A -
Man of War


Reactor Power
- 8 -


16


15


0

Slug Repair Gel


2


2


1


3


1


-


-


-


-


-


-


-


1


-


2


-

- 4 Max Weapons -
Anti-Bio Beam, Breach Bomb I
Dual Lasers

- 2 Max Drones -
-
Slug Cruiser
- Layout B -
The Stormwalker


Reactor Power
- 7 -


16


25


0

Slug Repair Gel


2


2


1


2


-


-


-


-


-


1


-


-


1


-


2


-

- 4 Max Weapons -
Healing Burst, Artemis

- 2 Max Drones -
-
Slug Cruiser
- Layout C -
Ariolimax


Reactor Power
- 9 -


16


1


15

Slug Repair Gel


2


2


1


2


-


1


-


1


1


-


-


-


1


-


2


-

- 4 Max Weapons -
Chain Laser

- 2 Max Drones -
-
Rock Cruiser
- Layout A -
Bulwark


Reactor Power
- 8 -


16


28


0

Rock Plating


2


2


1


3


1


-


-


-


-


-


-


-


1


1


1


-

- 4 Max Weapons -
Artemis, Hull Missile

- 2 Max Drones -
-
Rock Cruiser
- Layout B -
Shivan


Reactor Power
- 8 -


16


18


0

Rock Plating


2


2


2


3


1


-


-


-


-


-


-


-


1


1


-


-

- 4 Max Weapons -
Heavy Pierce I, Fire Bomb

- 2 Max Drones -
-
Rock Cruiser
- Layout C -
Tektite


Reactor Power
- 8 -


16


15


0

Rock Plating


2


2


1


3


-


1


-


-


-


-


-


-


1


1


1


-

- 4 Max Weapons -
Swarm, Crystal Heavy I

- 2 Max Drones -
-
Stealth Cruiser
- Layout A -
The Nesasio


Reactor Power
- 8 -


16


0


0

Long-Ranged Scanners
Titanium System Casing


-


4


1


2


1


-


-


-


-


-


1


-


1


2


1


-

- 3 Max Weapons -
Mini Beam, Dual Lasers

- 2 Max Drones -
-
Stealth Cruiser
- Layout B -
DA-SR 12


Reactor Power
- 7 -


16


0


0

Long-Ranged Scanners


-


2


1


4


1


-


-


-


-


-


2


-


1


2


1


-

- 3 Max Weapons -
Glaive Beam

- 2 Max Drones -
-
Stealth Cruiser
- Layout C -
Simo-H


Reactor Power
- 7 -


16


0


16

Long-Ranged Scanners


-


3


1


2


-


1


2


-


-


-


-


-


1


-


1


-

- 3 Max Weapons -
Charge Laser+, Mini Beam

- 3 Max Drones -
Shield+, Anti-Drone
Lanius Cruiser
- Layout A -
Kruos


Reactor Power
- 8 -


16


3


9

Emergency Respirators


2


1


1


3


-


1


-


1


-


-


-


-


1


1


1


-

- 4 Max Weapons -
Chain Laser, Ion Stunner

- 2 Max Drones -
-
Lanius Cruiser
- Layout B -
The Shrike


Reactor Power
- 8 -


16


0


0

Emergency Respirators


2


1


1


1


-


1


-


-


1


1


-


-


1


-


1


-

- 4 Max Weapons -
Advanced Flak

- 2 Max Drones -
-
Crystal Cruiser
- Layout A -
Bravais


Reactor Power
- 8 -


16


0


0

Crystal Vengeance


2


2


1


3


1


-


-


-


-


-


-


-


1


1


1


-

- 4 Max Weapons -
Crystal Burst I, Heavy Crystal I

- 2 Max Drones -
-
Crystal Cruiser
- Layout B -
Carnelian


Reactor Power
- 8 -


16


0


0

Crystal Vengeance


2


2


1


1


1


-


-


-


-


1


1


-


1


1


1


-

- 4 Max Weapons -
-

- 2 Max Drones -
-