For achievements you can get with any ship, see Achievements.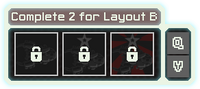 Ship Achievements are the three specific challenges set for the player to reach while flying a certain ship. The secondary "Type B" layout of a cruiser is unlocked when two of a ship's achievements are earned.
These differ from the overall achievements in that each one is unique to its respective cruiser and cannot be earned while flying another ship. For example, a ship achievement for the Kestrel Cruiser cannot be unlocked using the Zoltan Cruiser.
Ship Achievements do not need to be earned in any certain order and can be achieved while using either the Type A, B or C layout of a ship.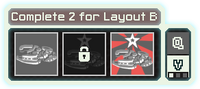 Additionally, each cruiser has a Victory Achievement for defeating the Rebel Flagship. This one displays which layout was used, meaning the player must defeat the Flagship with each layout of a ship to complete the achievement.
Finally, most cruisers have a Quest Achievement that is unlocked by completing a certain Random Event. Contrary to the previous achievements, this one can be achieved with any ship as it will also unlock the layout A of the corresponding cruiser.